Greenville Disc Golf Proudly Presents
Down East Players Cup
October 23-24, 2010
Greenville, NC
West Meadowbrook Park
PDGA B-Tier
North Carolina Points Series Event
Saturday 23rd
Sign In 7:30-8:30 am
Player's Meeting: 8:30 am
Round 1 Tee Time: 9 am (White)
Lunch (One Hour): On Site $5. Menu: TBD
Round 2 Tee Time: TBD (Blue)

Sunday 24th
Third Round Tee Time: 9 am (Blue)
Lunch (One Hour)
Fourth Round Tee Time: TBD (White)
Awards—Cannon Shooting, Sharing the Booty
Entry Fees & Registration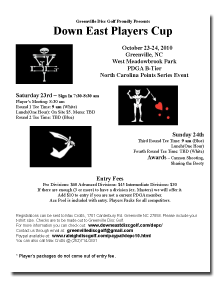 Pro Divisions: $60 Advanced Divisions: $45 Intermediate Divisions: $30
If there are enough (3 or more) to have a division (ex. Masters) we will offer it.
Add $10 to entry if you are not a current PDGA member.
Ace Pool is included with entry. Players Packs for all competitors.
Registrations can be sent to Max Crotts, 1701 Canterbury Rd. Greenville NC 27858. Please include your t-shirt size. Checks are to be made out to Greenville Disc Golf.

Contact us through email at: greenvillediscgolf@gmail.com
Paypal available at: www.raleighdiscgolf.com/paypal/depc10.html
You can also call Max Crotts @ (252)714-0331

* Player's packages do not come out of entry fee.